Call Center Solutions

"This call may be monitored to ensure quality service."
  But how useful is your monitoring?
Your call center is the front line of your communications with current and potential customers, and the experience they have may make or break their satisfaction, willingness to make a purchase or brand loyalty forever. With VoicePrism's CallPrism, you can get the information you need to identify optimal sales strategies for increased revenue, weed out your own poor performers, reduce operating costs and improve the overall effectiveness of the call center. With improved customer service, you'll convert new customers and build better relationships with existing ones.
A More Effective Tool
For years, the only tools to evaluate call center performance have been expensive, time-consuming and unwieldy. They couldn't monitor all calls in real time, and only monitored the words being spoken and not their emotional context, missing all but the most obvious problems. They universally failed to illustrate the customer service "big picture" or suggest viable strategies for improvement.
Emotion is the Key to Understanding
Any time a customer calls your call center, he or she experiences emotions that either improve or damage the relationship. Our technology consistently and objectively measures this emotional context of every call center interaction -- the emotional intensity, confusion, stress, happiness, anger or misunderstanding resonant in human voice patterns. CallPrism provides powerful, simple-to-use alerting systems and reports designed to facilitate faster and better decisions.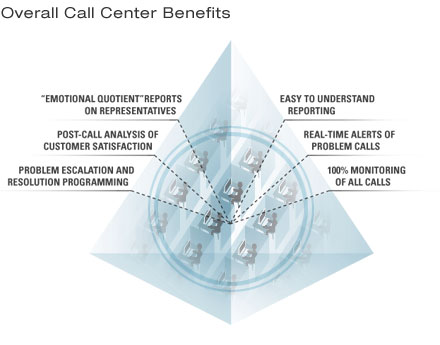 By implementing CallPrism™, you'll be able to monitor the emotions on both sides of every call. With the real-time intervention option, you can automate the workflow to notify the customer service representative or manager about what emotions the caller is feeling, so that he or she might respond accordingly. CallPrism™ also provides the ability to analyze thousands of recorded calls quickly and easily. Instead of reviewing a small number of calls randomly for Quality Assurance, CallPrism™ highlights the most problematic calls AND the specific problem areas within each call. CallPrism™ gives you the information you need to better train and manage your call center employees, and most importantly, to build better customer relationships.
| | |
| --- | --- |
| FEATURES | BENEFITS |
| Easy Integration | Easily integrates with all standard call center software application and hardware. |
| Instant Results | Time is critical when dealing with customers. Immediately know when your customers are dissatisfied and proactively remedy the situation. Know exactly when your CSR's are stressed and frustrated in order to prevent poor customer service. |
| Learning Capabilities | The application can be trained to find and locate specific call "signatures" such as "Needs Immediate Attention" or "Manager Inquiry." Once the system learns a signature, it will accurately identify category flags. |
| Save Time | No longer will you need to listen to an entire call to find problems. Pinpoint the exact location of a problematic call. |
| Patented Voice Technology | Measure emotions associated with your customers or employees to help provide more accurate and valuable information than ever before. |
| Scalability | Works in any size call center. Our solutions can grow quickly and easily along with your organization. Process 200 hours of recorded calls in less than an hour. |
| Global Design | Analysis works on every call your call center receives regardless of the language or dialect. |
Get More for Your Money
Market research is expensive. See how you can get better, richer, and more useful information - and turn insights into profit.

Learn more
Reduce Fraud
Reduce the cost of fraud on your business by implementing the right tools to identify it early and fix it quickly.

Learn more
Find and Keep the Right People
Our human resources solutions reduce recruiting, training, and turnover costs by allowing you to improve retention practices and keep the best employees.

Learn more
Contact Us Today

VoicePrism™ has helped large and small companies in many industries grow, increase profits, keep more of their customers and retain their best employees.
Contact Us
to find out how we can help you..